Virtual Open Systems Newsroom
News, newsletters, press releases, events and trends about open source virtualization

Virtual Open Systems main priorities is to keep innovating while expanding the penetration of open source virtualization, and the ongoing efforts to become the preferred worldwide provider of KVM virtualization solutions for ARM based heterogeneous systems.
Latest news, products, solutions, press releases, scientific publications regarding Virtual Open Systems around open source virtualization extensions for future platforms will be constantly uploaded into the company web site.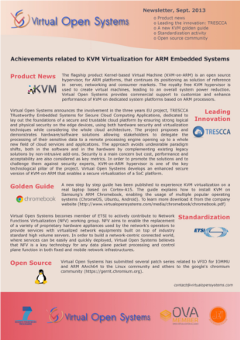 In this extent, the latest technological trends, virtualization best practices and various articles, news dealing with embedded systems and regarding the open source virtualization will be reported in different form, such as:
Newsletter: Virtual Open Systems newsletters provide you, on a quarterly basis, the latest information on products, open-source, events and research topics.
Articles: Find out more about the latest scientific articles published by Virtual Open Systems in conferences, journals or workshops, around virtualization combined with QoS, low latency, Real-Time constraints, and more.
Events: Stay informed about Virtual Open Systems upcoming demonstrations, workshops, conferences to learn about virtualization trends, and the latest QEMU and KVM on ARM technologies.