About Virtual Open Systems
Virtual Open Systems (VOSyS) is a software company providing open virtualization solutions and custom services in complex mixed-criticality systems for Automotive, connected vehicles, industrial, IoT Edge, IIoT, and more in general for embedded systems.

More information shared in the latest company profile presentation - previous company profile.
Company Foundation Statements
Mission: Enable Customers to gain competitive advantage over competition
Values: Believe in open source and industry standards, and Customer satisfaction
Vision: Become leader in mixed criticality and accelerators virtualization, by 2023
Strategy: Build competitive mixed-critical, safety-aware virtualization solutions to sell in Automotive, IoT and embedded systems
Mixed-Criticality Virtualization Software Company
VOSyS has been the first company to port KVM on ARM in collaboration with Columbia University, paving the way to a whole new set of use cases in the context of open source virtualization for embedded systems. It has initiated and leads the Automotive Grade Linux Virtualization Expert Group (EG-Virt), which foster the usage of virtualization in automotive electronic components. VOSyS is proud of its achievements in various vertical market segments which require virtualization technologies to address mixed-criticality requirements, such as in automotive, industrial, IoT, energy power-breakers, drones, etc.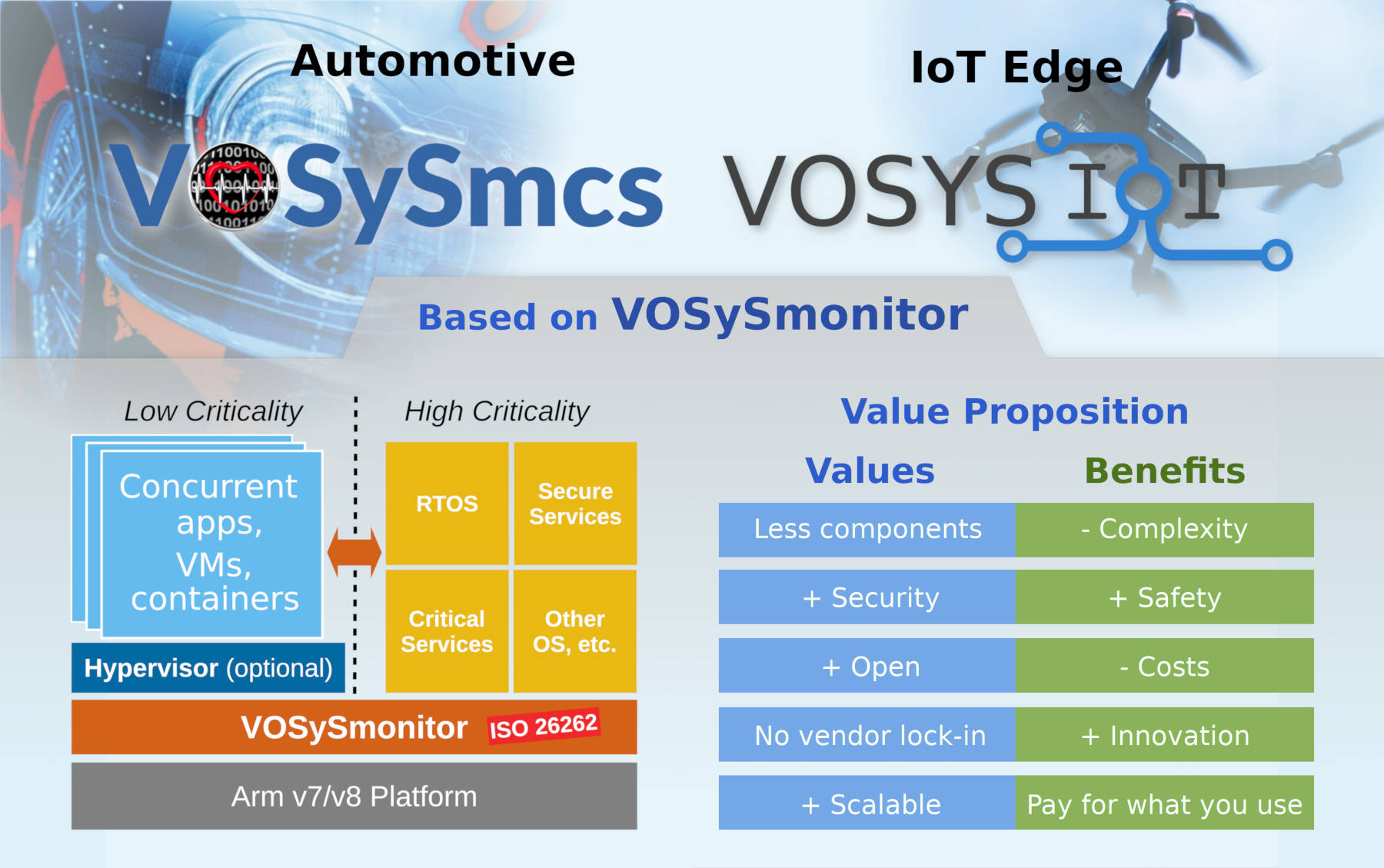 VOSySmcs - Automotive mixed-criticality virtualization product software stack
A company surfing innovation through research and standardization
Virtual Open Systems has an extensive experience with H2020 research projects in different aspects of the virtualization technology applied to automotive, edge computing & IoT, HPC and FPGA/GPU accelerators. In particular, ExaNoDe and ExaNeSt are sister projects, pushing to exascale computing with its cutting-edge virtualized compute nodes.
dReDBox builds datacenters by means of a less conventional approach based on a memory and peripheral disaggregation architecture. 5GCity and NGPaaS exploit and push forward the frontier of 5G, by providing, respectively, an integrated platform for 5G Neutral Hosts and a virtualization stack for telco-grade 5G/NFV.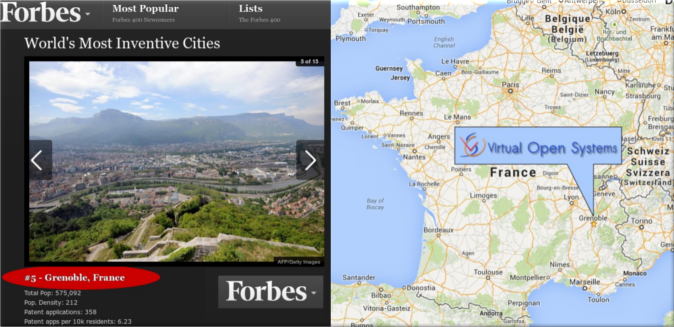 Forbes 2013: Grenoble, the 5th Most Inventive City in the World
Financial Times 2016: 3rd European city for foreign investors
Virtual Open Systems: Geographical Environment