Virtual Open Systems Quality Management System
ISO 9001:2015 Certification

In the intent of serving its customers in line with high quality standards, Virtual Open Systems has developed and put in place a quality management system (QMS) compliant with the stringent requirements of the ISO 9001:2015. Virtual Open Systems QMS has been certified by an independent certification company, TÜV Rheinland France SAS.
Virtual Open Systems Quality Policy
Company Mission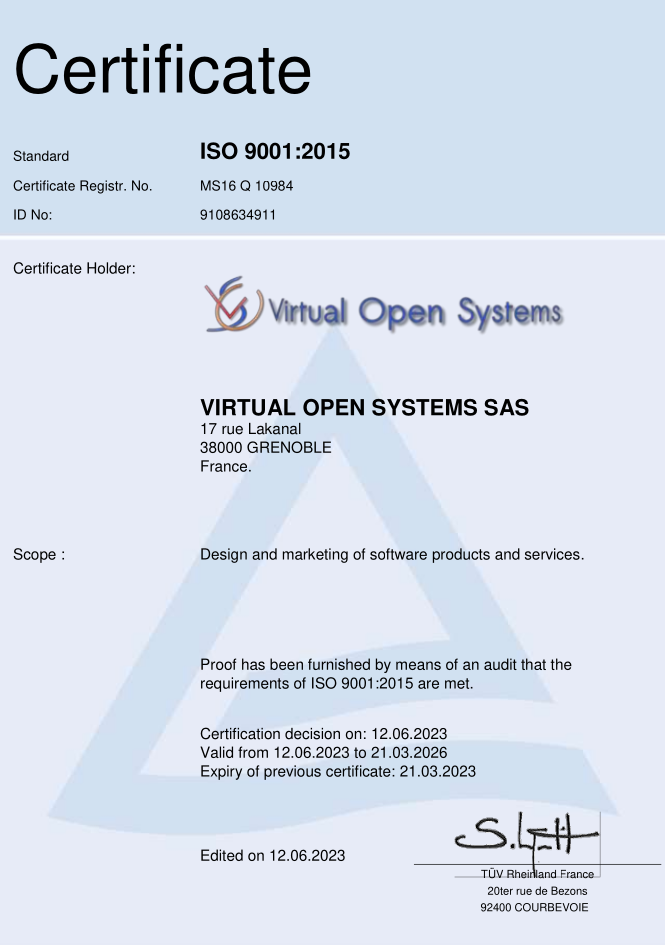 Virtual Open Systems is committed to provide products and services which not only meet but also attempt to exceed customer expectations by continuously improving and updating its Quality Management Processes and company skills to aim at quality excellence.
Quality being a shared responsibility, all employees in Virtual Open Systems are required to be involved and to stay fully committed to serve customers in line with high quality standards.
There is no room in Virtual Open Systems to compromise, for whichever reason, the quality level that the company owes to its customers.
Company internal procedures are periodically reviewed in order to be effective and to guarantee customer satisfaction, while continuously improving the process through applicable corrective actions.
Company Quality Guidelines
The following primary quality guidelines are shared unconditionally by all company employees:
The executive management team in Virtual Open Systems shares unconditionally, first class quality and customer service satisfaction as a basic mindset in its every day work.
Ensure that all customer requirements are thoroughly understood, documented and implemented as needed.
Respond to complaints quickly and effectively in order to satisfy customers and fully resolve the root causes of a problem.
Provide products and services that meet or exceed expected requirements, by implementing robust design rules and using the appropriate tools and methodologies, while ensuring a strong company visibility through international dissemination.
Continuously improve by measuring the company performance and monitoring the effectiveness of the process through audits and technical reviews, with self sustainability in mind.
Promote management commitment, active involvement and accountability to quality.